KNOW YOUR PARISH YOUTH CELL
PARISH YOUTH COUNCIL MEMBERS (PYC)
| | | | |
| --- | --- | --- | --- |
| Matthew | Mark | Luke | John |
| Craig D'Souza | Karen D'Mello | Vabriena D'Souza | Sandra D'Souza |
| Shaunin Fernandez | Tanya D'Mello | Crystal D'Souza | Walter D'Souza |
Nominated Members: Jovita (Matthew); Michelle D'Souza (John); Karen Gonsalves (Luke)
PARISH YOUTH ANIMATING TEAM (PYAT)
Parish Youth Director: Fr. Henry Sequeira
Lay Animators Head: Ferdie Pereira & Noletti Pereira
Animators: Matthew: Dymphena Dias; Mark: Lyndon Tavares;
Luke: Terence Lopez; John: Victor D'Souza
Religious Women Rep.: Sr. Maria Angela
Brothers: Br. David Silva, Br. Desmond Fernandes, Br. Ranjith
Boy Representative: Craig D'Souza
Girl Representative: Tanya D'Mello
____________________________________________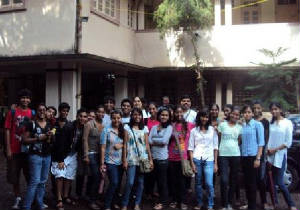 MARIAN PILGRIMAGE
The youth of our parish assembled at Our Lady of Salvation Church at 5.00a.m. We began with a short prayer before setting out on our pilgrimage to the Mount, Bandra. Father Henry & the youth animators led us in meditating on the Rosary & in singing a few select hymns. We made a short stop at the St. Michael's church grotto where we prayed for certain intentions.
We arrived at the Mount & attended the 7.30a.m. mass. We had breakfast at D.P.C., thereafter, a majority of us proceeded to St. Catherine's Orphanage.
This was the highlight of my day & also that of many of my friends. The kids there were so welcoming & trusting we broke up into groups and started interacting with the kids with whom we bonded instantly. We played games, sang songs & also learnt quite a lot from them. We left there with heartfelt goodbyes, bear-hugs & sincere promises on our part to return & devote ourselves to spending time on a regular basis with these awesome kids.
A group of about 12 of us then went onto Shanti Avedhna which was another enlightening & edifying experience. I thank all those who were responsible for making this trip possible.
- Kimberly D'Souza
____________________________________________
CLICK ON THE BELOW PICTURE TO VIEW MORE SNAPS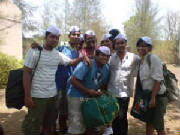 YOUTH EDUCATIONAL MISSION TRIP
The youth mission trip organized by the PYAT was great and one of the best trips I have ever gone for. It gave us a whole new experience of how life is like in a village and how people can just survive with what little they have. I had no idea of how or what this trip would be like. The 4 days that we spent in a remote village was hectic and tiring but at the same time gave me memories that would last forever. It was a trip filled with a lot of learning experiences. There was no time for leisure as we were always on the run. Made us realize how the villagers live in their small homes and work 9:30 am to 6:30 pm in the scorching heat and make their living. We waste a lot as we depend on technology for almost everything. It has taught me the value of money as the villagers were just content with what they had; the income that they get is what we spend in a day. It has also taught me the value of time and water. They had to walk far just to get water. Here we are waste a lot just because it is in supply 24/7. It was a learning experience filled with fun and memories that I would carry for a long time. I would like to thank Fr. Aniceto for the opportunity, as this trip has also broadened my perspective and has changed my attitude towards life. I would also encourage more youth to go for trips like this as one would never experience village life in a city. I am glad I decided to go for this Mission trip and am looking forward to the next one.
- Steffi Fernandes
Going to a village by oneself is an experience each and every youth should do. It's a thrilling one with a lot of exciting things happening. Doing chores which villagers do, was hard but we learnt some of their hard work. We learnt to respect them and honour their work. Their honesty and sincerity was a thing we have to salute and apply in our day-to-day life. I am very happy to have gone for this trip.
– Joshua D'mello
It was an awesome experience visiting a village where there is no electricity and vehicles. It was great being there. We stayed with the village folks. They were so humble and kind to us. They welcomed us into their homes as one of their own family members. I remember the day I wasn't well and we had to climb a big mountain. I was not able to do so; the guide was so kind & understanding, staying back with me which made me feel at home.
– Janice D'souza
____________________________________________
WORLD YOUTH DAY 2010
The Parish Youth Animating Team organised a Prayer service for the youth on Palm Sunday - 28th March 2010. Palm Sunday is also observed as World Youth Day. Although the service was at 5 am, it was nice to see a lot of participation from the parish youth. The reflection began with Taize singing and further went on about how life has to be led with intensity, just the way CHRIST lived His life. There was also a short debate on how the MNS lives life intensely even though the violence may not justified. The service then followed with mass. It was truly an enriching experience.
- Astrid
The Dawn Vigil was held in Our Lady of Salvation Church Dadar. This was held to commemorate World Youth Day, was a wonderful experience for the youth. With hymns and a debate, the youth were up to date with current affairs and also came closer to God. This was a wonderful way to bring the youth together in the Light of Our Lord and His Passion. The Vigil ended with mass.
- Vabriena